PULL MODEL-A FORD HUBS WITH EASE
The Model A Ford was equipped with two styles of rear hubs over their four years of productions. KR Wilson supplied a hub puller that would fit the early cars, but it did not have provisions to work on the later hubs. Because some cars would end up with one of each on the rear axle, pulling the hubs became a challenge for many car owners. Either owning two sizes of hub pullers, or finding someone who had the correct one was necessary. The Mitchell Manufacturing Company has introduced a puller that will handle both sizes of hubs with ease.
One hub has a ring around the outside of the axle shaft, the other has a groove in the same location. Depending on which type of hub you are working with, attach the large or small hub puller hardware pieces and simply turn the bolts until the hub pops off.
Because it can be taken apart, the Mitchell Hub Puller is quite easy to carry on tour. We have always carried the appropriate puller in case it becomes necessary to remove a hub on the road. This little tool just makes it more convenient!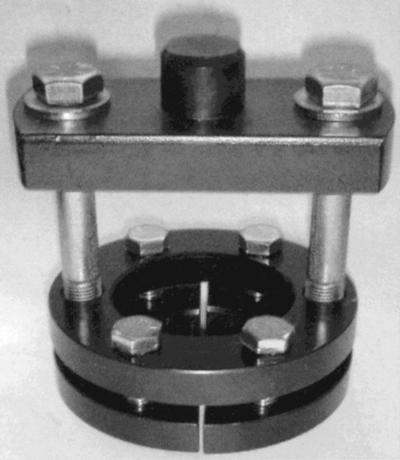 This slick Hub Puller has two sets of "C" shaped hardware configurations that fit the two sizes of hubs that were produced for the Model A Ford.
Many of our products are custom made to tailor-fit your vintage car. Because of the technicalities involved in the manufacturing of our products, we do not offer them for sale online. Please call us today to start your order, and get your car on the road with a Mitchell product!